Historical Mortgage Rate Data & Financing Information
When looking to purchase a property in the Smoky Mountains, especially an overnight rental investment cabin, using a knowledgeable and qualified lender in the industry is vital. I have seen several times where out of large out of state lenders, who are licensed to lend in Tennessee, aren't aware of the nuances and details of an investment loan on a rental cabin. Often, these lenders will use appraisers from our adjacent larger market of Knoxville that aren't as familiar with the Sevier County cabin market. Appraisers very rarely take the "income approach" when evaluating an overnight rental cabin's value. Instead, most take the sales comparison approach. Which can be very appropriate and in most situations is correct, but it is very important to evaluate the rental income when purchasing an overnight rental cabin.
It isn't uncommon to have two cabins the same square footage in the same subdivision that will have a substantially different gross rental income and return on investment. The reasons are plentiful, including a different management company, a better mountain view, more desirable interior amenities such as a theater room, and a host of other explanations. When evaluating a property as an overnight cabin investment the price per square foot certainly matters, but taking into consideration the past rental history and the amenities within the cabin are also a high level of importance. At times lenders and appraisers don't take this into consideration (or assign little weight to it) when evaluating or appraising a cabin.
Local banks are sometimes reluctant to give long term fixed investment loans on overnight rental cabins. Often they will be more likely to do loans such as a 5 year balloon based on a 15, 20, or 30 year amortization. This type of loan certainly isn't for everyone. With the low interest rates in today's market it creates a high likelihood that in 5 years when the note is due and payable that one will face a higher interest rate and payment when a new loan is considered if they aren't able to pay off the loan in it's entirety. This could fairly substantially alter the ROI depending upon how large the fluctuation of interest rates were during the balloon term to the day the note was due. There are, however, some local banks that will do longer term fixed rates on overnight rental investment cabins. They just aren't as eager or as likely to offer a longer term fixed rate loan.
I closely follow the 10 year treasury market as the yield and the mortgage market often have a correlation.
There are a couple lenders I feel confident in based on their experience in our market, overall knowledge, and competitive interest rates. Please feel free to contact me for some suggestions.
Primary Mortgage Market Survey® data provided by Freddie Mac
Click to View Historical 30 Year Fixed Rates Dating Back to 1971 from Freddie Mac
One Year Mortgage Rate Trend (30 year fixed mortgage, 15 year fixed, 5/1 ARM, and 1 year ARM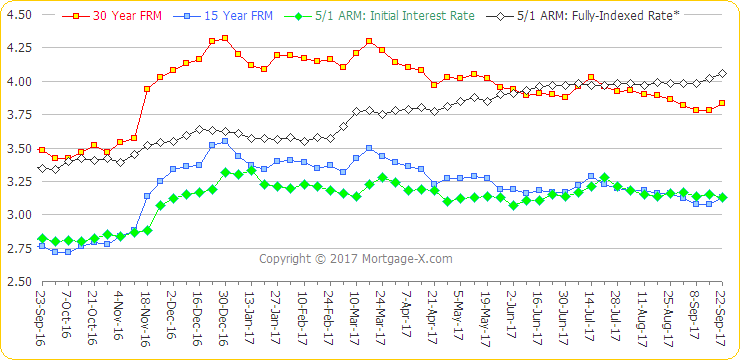 Reproduced with the permission of Mortgage-X.com
Three Year Mortgage Rate Trend: 30 year fixed rate mortgage, 15 year fixed, and 1 year adjustable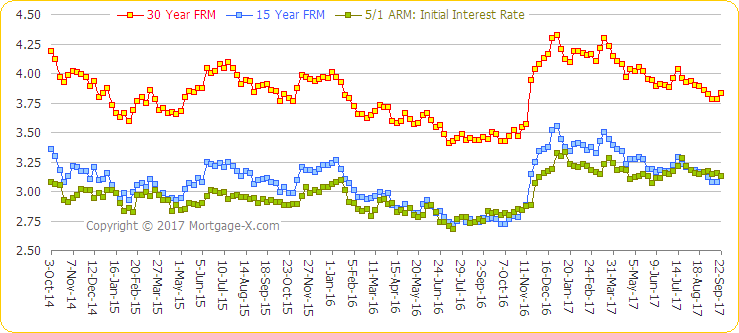 Reproduced with the permission of Mortgage-X.com
Historical Long Term Interest Rate Trend: 30 year fixed, 15 year fixed, and 1 year adjustable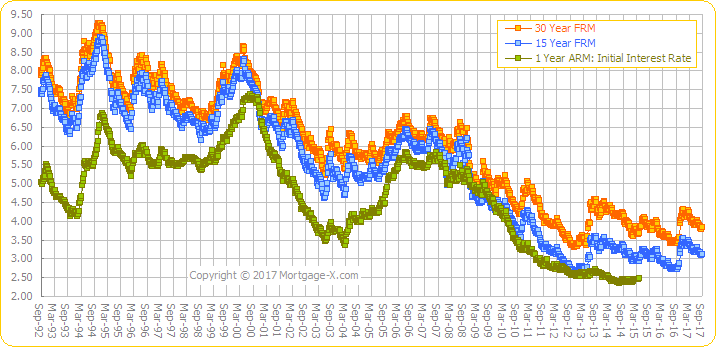 Reproduced with the permission of Mortgage-X.com
30 Year Fixed Rate Mortgage vs. Prime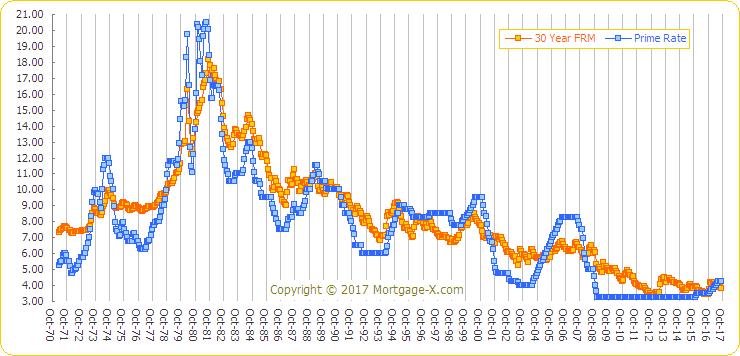 Reproduced with the permission of Mortgage-X.com